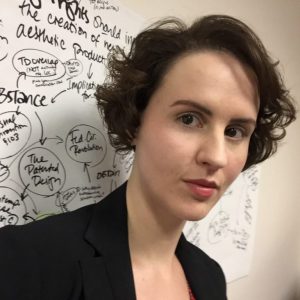 event: Prof. Sarah Burstein of the University of Oklahoma College of Law is this year's first speaker in the Center's series on "What Is Design?"  That question is central to the scope of design protection, yet the answer may differ depending on one's view of design.  Prof. Burstein examines the question of statutory subject matter of the design patent act and how we might reimagine the concept of what is a "design."
bio: Sarah Burstein is an Associate Professor of Law at the University of Oklahoma College of Law. Her scholarship focuses on design law, with a particular focus on design patents.  She is a Research Affiliate of the Chicago-Kent Center for Design, Law & Technology.
She has participated, by invitation, in design law conferences at the University of Oxford, Stanford Law School, the Max Planck Institute for Intellectual Property and Competition Law, ETH Zürich, and Waseda University in Tokyo. Prior to joining the faculty at OU, Professor Burstein worked as an intellectual property litigation associate in the Chicago office of Kirkland & Ellis LLP. Professor Burstein has a law degree from the University of Chicago and B.A. in Art & Design from Iowa State University.