Have you recently logged in to Bloomberg Law or Westlaw, only to find that your favorite tool or resource is not where you left it?
Good news–you're not losing your mind!
Westlaw and Bloomberg Law have recently undergone significant face lifts to their interfaces that will affect how you interact with them.  Here are some of the key features that you'll want to be aware of in both platforms.
The primary changes in Westlaw will affect the way you use secondary sources (you are making frequent and effective use of secondary sources…right?!).  In the past, clicking the "Secondary Sources" link from Westlaw's homepage would bring users to a page where that encouraged them to first choose the type of secondary source that they were looking for (Texts & Treatises, Journals & Law Reviews, etc.), and/or by jurisdiction.  This main landing page for secondary sources has now been redesigned to put all of these filters on the left side of the screen.  While the default in Westlaw is to search across all secondary sources at once, these filters allow users to think critically about the type of resource that they are most interested in, and should be used efficiently to tailor your search and filter out unwanted results.
Westlaw now provides users with several different ways to find a particular publication: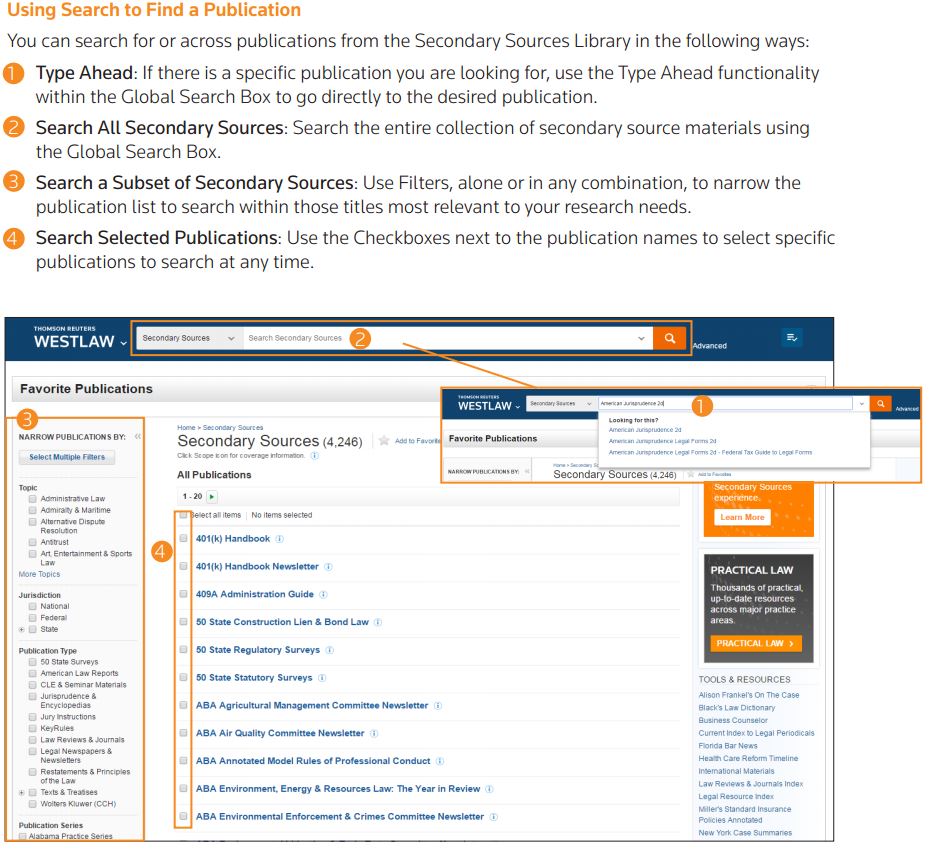 Since we encourage students to use secondary sources early and often in the legal research process, learning how to navigate this new interface will be crucial for success.  For additional information about Westlaw's freshly designed secondary sources interface, see their helpful guides here and here.
The changes you will see in Bloomberg Law when you log in are considerably more substantial than what we saw in Westlaw.  Bloomberg Law has essentially revamped their entire interface.  Bloomberg has changed the way that its search and navigation functions operate, with an eye towards increased speed and efficiency of content retrieval.
The most noticeable change to Bloomberg Law is the navigation menu that appears on the left side of the homepage.  This is where you will be able to access most of the content contained within Bloomberg Law.  This menu will follow you around the site as you navigate to different pages, so if you're ever in doubt as to where something is, remember that you can always find this navigation panel.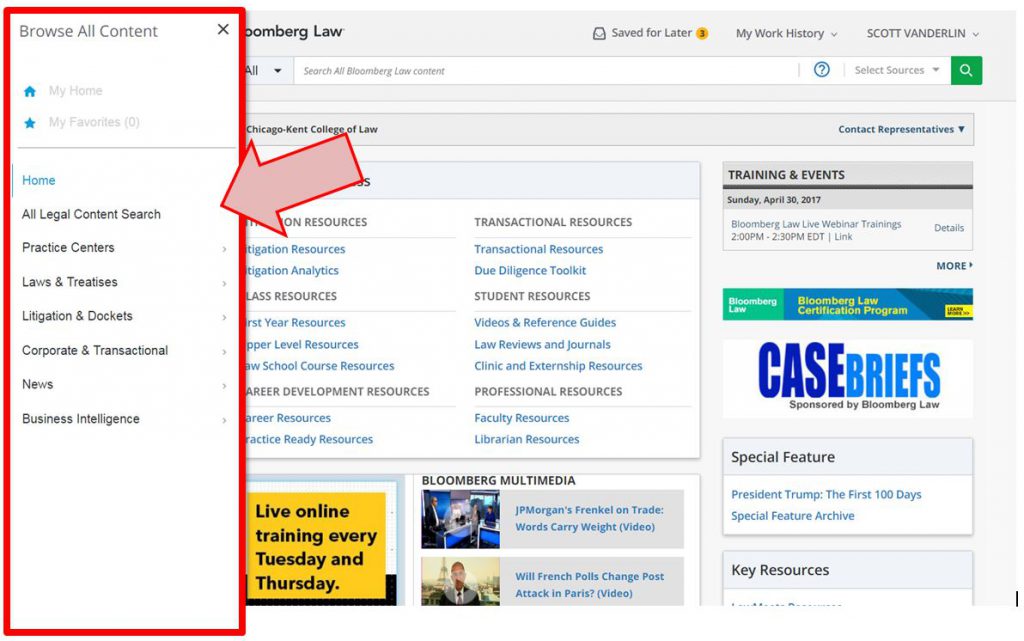 Also of note is an increased efficiency in the content that is displayed in Bloomberg Law's advanced search bar.  Bloomberg Law has made it easier to find pages and resources within the system, simply by typing keywords into the search bar and viewing suggestions.  These include links to the popular Practice Centers within Bloomberg Law, as well as links to treatises and primary materials related to the keywords.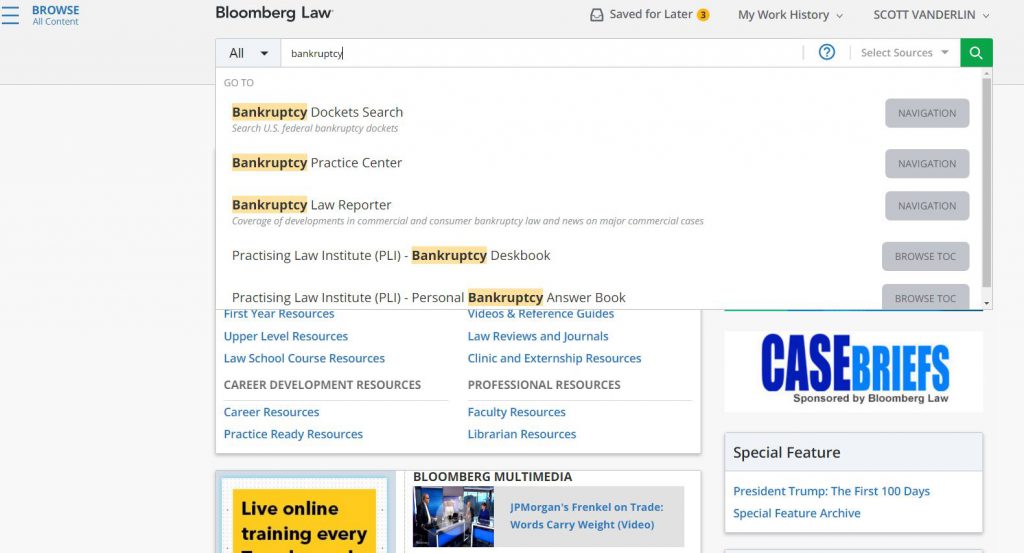 Using Bloomberg Law is truly a new experience since the redesign.  It is worth exploring the new interface to determine how you can integrate these new features into your workflow.  For a complete tour of Bloomberg Law's new features, we encourage you to watch this explanatory video.
As always, there is no substitute for hands-on experience, so we would suggest test driving the new Bloomberg Law and Westlaw interfaces for yourself to begin familiarizing yourself with where your favorite tools and resources now reside, and how they work.
As always, you can always come speak with Chicago-Kent's helpful research librarians with any questions about how these new interfaces work!