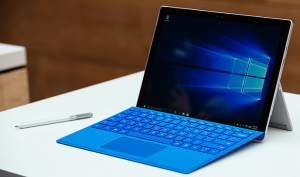 Lawyers love their mobile tech.  A recent lawyer technology survey showed that 50% of attorneys use a tablet and 90% use smart phones.  But as useful as they are, phones and tablets haven't been ideal replacements for desktop computers, or even laptops.
In the last few months however, the legal tech landscape has changed.  Microsoft introduced the Surface 3 in 2014, and followed up with the even more powerful Surface 4 last fall.  Apple, not to be left behind, started shipping the full-size iPad Pro last November.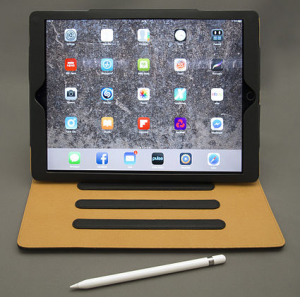 Lawyers have praised both technologies.  The iPhone JD blog was very excited when the iPad Pro was announced, and a tech writer for Above the Law loves the Surface Pro 4.   But are either replacements for a full desktop or laptop computer?  If they aren't yet, we're certainly getting close.
iPad Pro
The iPad Pro is larger than traditional iPads – about the size of a small laptop.  Much of the excitement around this new tablet is about not the size itself, but the two optional accessories that are offered with it.  One, Apple is offering a full-size keyboard, bigger than those traditionally available for older iPads.  Second, Apple has created a sophisticated stylus called the Apple Pencil.
Lawyers like using the iPad Pro and Pencil for activities like taking notes.  Like other iPads, it has a long battery life.  However, it uses Apple's mobile operating system.  While this system is powerful, it is missing tools that would be useful in a legal environment, particularly easy access to files and to full versions of Microsoft Office programs.  The top-of-the-line version is about $1100.  Apple's keyboard is $169 and the Pencil is $99.
Surface Pro 4
The Surface Pro 4 is a powerful tablet that uses the Windows 10 operating system.  It comes with a great stylus, but note that the keyboard must be purchased separately.  Although keyboards from the earlier versions of the Surface were a bit hard to use, many have found the newest Surface Pro keyboard to be very serviceable.  Because the tablet uses Windows 10, it can run the same programs as a desktop or laptop computer, including (not surprisingly) Microsoft Office programs.  However, the battery life is several hours shorter than an iPad, and a top-of-the-line model – which is about as powerful as a good laptop –  costs $2700 even before purchasing the keyboard (the Microsoft cover/keyboard is $130).
Which is better?
If you are considering one of these tools, which should you choose?  If you need a device for reading and markup, you should look into the newest iPad.  But if you need a lightweight tablet that can (almost) substitute for a standard laptop, investigate the Surface.  And many users are happy with the much less expensive Surface 3 Pro.  Or you can wait to see what competitors will introduce.  For example, there are already third-party Surface clones on the market.