While we are celebrating the American Library Association's national "Banned Books Week" on our blog, the freedom to read is an international issue. Here's an example: Newsweek reported Iran instituted a ban on all works by Paulo Coelho, the author of international bestsellers such as The Alchemist, The Diary of a Magus, and Veronika Decides to Die:
Over the years, Iran's theocracy has fearlessly thumbed its nose at Israel, the United States, and the United Nations. But now Tehran has taken its row with the West a disturbing degree further. This week the Iranian government reportedly banned all works by Paulo Coelho, the Brazilian mystic and author…
Here's a reveiew of one book by Paulo Coelho by Library Technology Specialist Kim Koppen: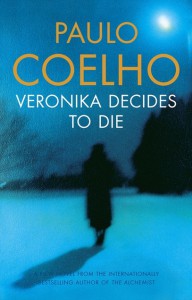 Despite its title, Veronika Decides to Die is a surprisingly uplifting and inspirational book. The story opens with a young woman, Veronika, who attempts to commit suicide from overdosing on sleeping pills. She is unsuccessful and upon regaining consciousness in a local mental hospital, is told by her doctor that she damaged her heart so badly in her attempt, that she doesn't have much longer to live anyway.
The story follows Veronika during her stay at the hospital, and the variety of emotions and road to self-discovery she experiences as she reflects on her life, her regrets and all the emotions she never allowed herself to feel.
Veronika Decides to Die is based on events in Coelho's own life, and is one of those books that is filled with wonderful quotes about individuality and the difficulty people often face when attempting to conform to societal norms. While there are many quotes to choose from, I would have to say the following is my favorite,
"Haven't you learned anything, not even with the approach of death? Stop thinking all the time that you're in the way, that you're bothering the person next to you. If people don't like it, they can complain. And if they don't have the courage to complain, that's their problem."