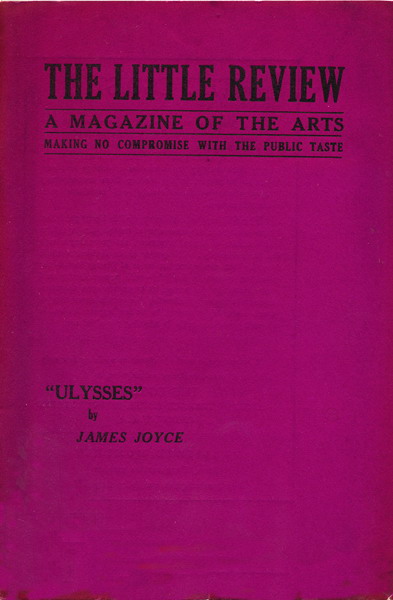 Ulysses was first published serially in The Little Review, an American arts magazine, from March 1918 through December 1920. Sylvia Beach, the proprietor of the famous Paris bookshop Shakespeare & Co., published the entire manuscript in1922. The book made its way back to the United States, this time in book form, when Random House published the work in 1934. A story from the New York Times describes Judge Woolsey's decision, mentioned in Dan Saunders's appreciation below.
Dan Saunders is the Faculty Scholarship Marketing Coordinator at the Law School whose favorite is Ulysses:
James Joyce's lexicographic chronicle of Leopold Bloom's life on an ordinary day in June contains nothing short of the whole world: a breakfast of kidneys, a dreary funeral, a journey through Dublin, a compendium of rhetorical devices, a biographical theory of Shakespeare's works, a musical interlude, an exhaustive parody of the history of English prose, a night of drinking, a hallucinogenic play set in Dublin's red-light district, a nontraditional catechism, an adulterous but loving wife, and much more, all structured in a narrative that parallels Homer's Odyssey.

In his quest to represent the entirety of human experience, Joyce set the highest of the highs alongside the lowest of lows—including the coarse language and sexual content that led to an obscenity trial in the U.S.

Thankfully, U.S. District Court Judge John M. Woolsey's famous trial court decision—an unequivocal affirmation of free expression in the arts—helped Ulysses rightly escape the censors. The decision paved the way for future victories and preserved for us this brilliant masterwork of English literature, at once vulgar and divine, hilarious and profound.
Jayne Kenney, the Assistant Director of Alumni Communications at the Law School, agrees with Allie Bernstein (see Sept. 23rd post) that To Kill a Mockingbird deserves special praise:
I first read the book when I was in the 5th grade, which I consider to be a mixed blessing. On one hand, I missed a lot of the book's incendiary themes. I loved it simply because I had a brother named John, which is close to 'Jem,' a father who was a lawyer like Atticus, and I shared Scout's love of reading and abhorrence of dresses. As an adult I better appreciate just how much of a visionary the author was, not only in the stand she took on complex social issues, but in sharing that commentary through the unusual perspective of a precocious young girl.

For someone who so famously published only one novel, Harper Lee made a powerful impact on generations of readers, including me. What was not lost on me as a young reader is what each character struggles with, namely how do you stay true to yourself when what you feel is right differs from what society tells you is right? Lee does a fantastic job of describing the meaning in commonplace, everyday life and also the tragic beauty in fighting against forces beyond your control. I love this novel and I feel that it has as much to teach us today as it did fifty years ago when it was first published.