Ken Kesey's book was considered shocking when published in 1962, but is highly regarded today. The work served as the basis for a popular film in 1975 starring Jack Nicholson.
Alex Magilli, Administrative Assistant at the Chicago-Kent Law Review, 'warns' us about
this dangerous book in which the mad people are much saner than their keepers: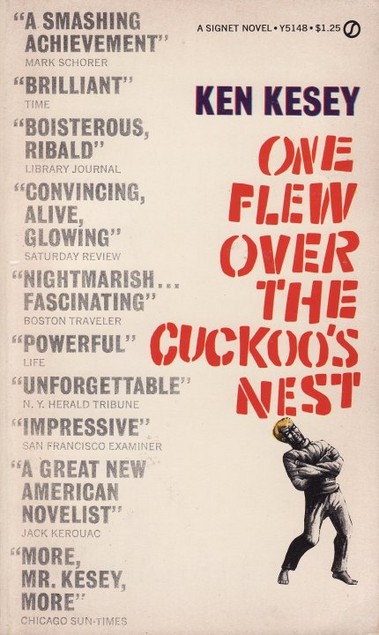 Don't mess around with this book. It's vulgar and vitriolic. The text is brimming with sex, drugs, and violence. It is anti-establishment, anti-morality, anti-whadda-ya-got. It is a scandalous romance of ne'er-do-wells and malcontents and wild American ideals. It's a prosaic chastisement of obedience and a call to arms for the kind of Wild West-ism that a civilized society did well to build picket fences to keep out.
And the author!: a drug-addled incorrigible who was so Out There that Timothy Leary wanted nothing to do with him, but Hunter Thompson did; a symbolic baton-carrier who took the handoff from William Burroughs and followed Jack Kerouac in the relay race of American Youth Rebellion; an acid-dropping trouble-maker who could barely take time away from his institutionally-financed LSD experiments to finish writing his book. NOT AT ALL the kind of behavior we expect from our authors.
A dangerous work of beautiful prose and hallucinogenic mindscaping that questions if you've bothered to live lately; a painful reminder of lost concepts of camaraderie and pugnacity; sneering, brawling, mouthing-off, and punching-glass; a rare anthem to over-indulge. You'd do better to leave this one alone, unless you're into those kinds of things. In which case heaven help us and god bless Randle Patrick McMurphy.