Blog post by Prof. Christi Guerrini, IP Fellow
Prediction by Prof. Edward Lee
---
On April 30, the Supreme Court heard oral argument in Limelight Networks v. Akamai Technologies, a case involving the thorny issue of "divided" patent infringement—specifically, whether a defendant may be held liable for inducing patent infringement under 35 U.S.C. § 271(b) even though no one has committed direct infringement under Section 271(a). The Court's decision is likely to have important implications for developers of distributed systems and method innovations that are typically executed by multiple independent persons. For example, patents on Internet services and business methods may involve some steps of the patented method that are performed by the technology company and other steps performed by customers.
Predicting the Winner: A Win for Akamai?
In a prior post, I explained the method by which I am predicting the winners of the case based on counting up the number of questions during oral argument. The side that receives more questions from the Justices typically is on the losing end of the decision. Using that method, Akamai might get a slight edge to win the case. As depicted in Figures 1 and 2 below, 5 justices asked Limelight's attorney more questions, and, when coupled with the questions to the U.S. government (as amicus curiae supporting Limelight's side), the Justices asked 16 more questions to Limelight's side, 45 questions to only 29 questions to Akamai. Those numbers suggest a win for Akamai based on this method.
However, I am not too confident in this prediction. The Justices did in fact ask the same number of questions to both parties (29)—which suggests a closer call. As I've noted in the prior post, the presence of an attorney for a non-party (an amicus) may skew the numbers somewhat if the Justices feel obliged to ask every attorney some questions. Plus, the U.S. government's position may confound the conventional analysis of the number of questions. In a different case just decided this week, Octane Fitness, LLC v. ICON Health & Fitness, Inc., the number of questions was quite similar to this case, but it defied the pattern described above. In Octane, there was an even split of questions between the parties (31), plus a differential of 51 questions for petitioner's side (adding in the U.S. government as amicus curiae) to 31 questions for the respondent's side. But the Supreme Court ultimately decided in favor of the petitioner, despite its side receiving the greater number of questions. The Octane case suggests that the questions in Limelight may defy the conventional pattern—which would bode well for Limelight.
Figure 1. Number of Questions in Limelight Networks v. Akamai Technologies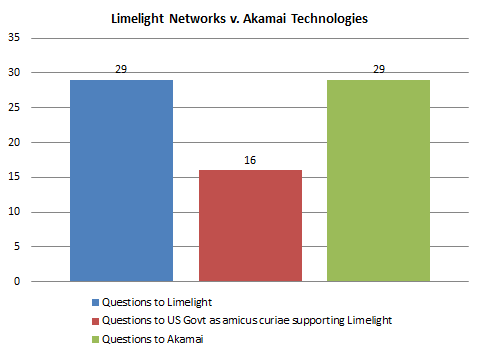 (more…)