This past year has seen numerous members of Chicago-Kent's faculty accept awards, publish articles, and push boundaries. As 2015 draws to a close, here are several Faculty Blog posts that highlight the outstanding scholarship at IIT Chicago-Kent.
Professor Christopher Schmidt unpacked MLK, Jr.'s commentaries on the relationship between law and justice.
King often struggled to explain why he believed civil rights activists were justified in breaking certain laws—even some laws that on their face said nothing about race—while also condemning segregationists for their defiance of Brown and other federal civil rights requirements. He famously tackled this question in his 1963 Letter from Birmingham Jail, where he differentiated just and unjust laws. "A just law," he wrote, "is a man-made code that squares with the moral law, or the law of God. An unjust law is a code that is out of harmony with the moral law." Since segregation laws fall squarely in the later category, "I can urge men to obey the 1954 decision of the Supreme Court because it is morally right, and I can urge them to disobey segregation ordinances because they are morally wrong."
Read the entire post here.
As an advisor for an amicus brief in Elonis v. United States, Professor Heyman's commentary on the case is worth reading in light of investigations into the Facebook habits of the San Bernardino shooters.
This Monday, June 1, 2015, the Supreme Court handed down its long-awaited decision in Elonis v. United States. In a 7-2 ruling by Chief Justice John G. Roberts, Jr., the Court narrowed the circumstances under which individuals can be convicted of making criminal threats under federal law when they post statements on social media like Facebook. At the same time, the Court showed a prudent inclination to tread cautiously in a difficult area.
After Anthony Elonis's wife left him, he began to write graphically violent rap lyrics and post them to his Facebook account. In several posts, he fantasized about murdering his estranged wife. Others contained violent thoughts about the workplace from which he had been fired, his former co-workers, and an FBI agent who had investigated the matter. In one post, he even talked about massacring a local kindergarten class […]
Read the rest here.
Professor César F. Rosado Marzán's commentary on the NLRB's union policies was both timely and relevant.
According to the Board, collective bargaining in college football would require league-wide bargaining, including with those units with putative public sector employees who are beyond the reach of the NLRB's jurisdiction—the college athletes who play for state schools. The arrangement of college football proved too complex for the NLRA's model of collective bargaining, according to the NLRB. However, the Board reached this decision even when professional Canadian athletes in baseball and hockey do not fall under the NLRB's jurisdiction; professional baseball and hockey are unionized.
Read the whole post here.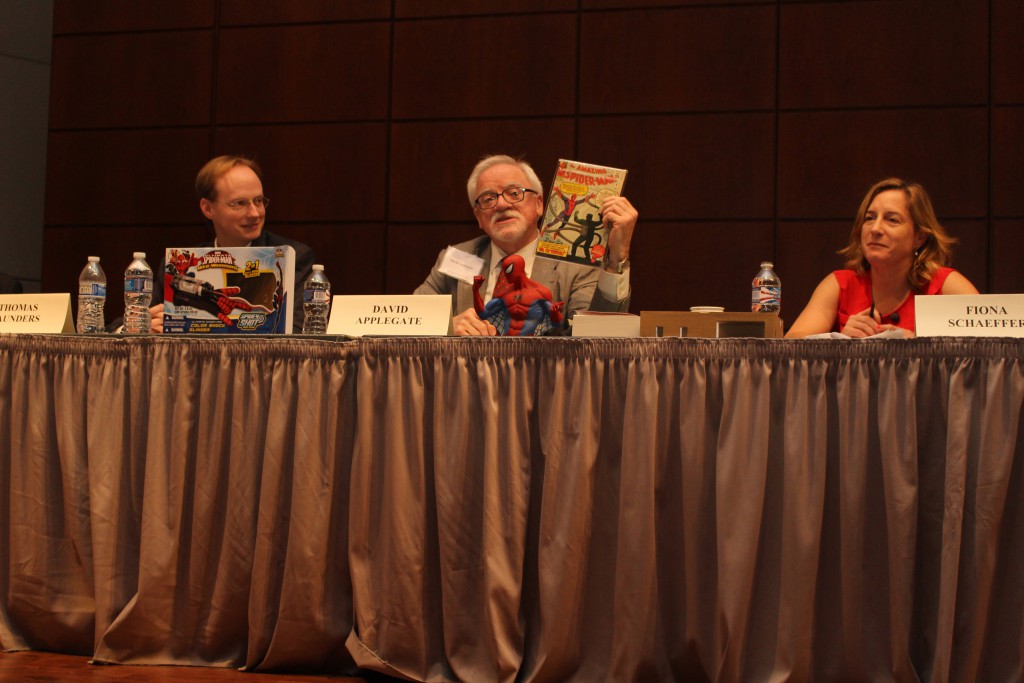 In September, Chicago-Kent hosted the sixth annual Supreme Court IP Review Conference, which brought together scholars and law practitioners of all kinds. An October Faculty Blog post showcased photos and recordings of the Conference, which featured the Honorable M. Margaret McKeown speaking on copyright and the First Amendment.
View the entire post here.
May / November – Faculty Perspectives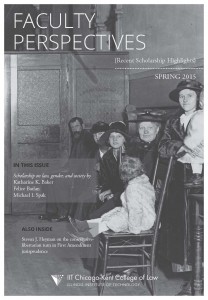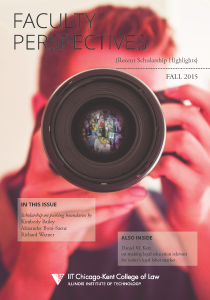 Two issues of Faculty Perspectives were released this year. The Spring 2015 issue focused on law, gender, and society, while the Fall 2015 issue featured boundary-pushing work.
Read the Faculty Blog entry on the Spring 2015 issue here.
Read the Faculty Blog post on the Fall 2015 issue here.