On October 20, 2014, Professors César F. Rosado Marzán (IIT Chicago-Kent) and Sergio Gamonal C. (Adolfo Ibáñez) launched their new book, El Principio de Protección del Trabajador en el Derecho Norteamericano ("The Protective Principle in U.S. Work Law"), at the Universidad Adolfo Ibáñez in Santiago, Chile. The launch ceremony featured a discussion of the book with Omar Astudillo Contreras, Minister of the Court of Appeals of Santiago, and Jose Luis Ugarte Cataldo, a professor at the Universidad Diego Portales and one of the most prolific labor law scholars in Chile.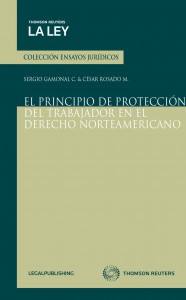 El Principio de Protección del Trabajador en el Derecho Norteamericano, published by Thomas Reuters-Chile, is a modified translation of the authors' English article "Protecting Workers as a Matter of Principle: A South American View of U.S. Work Law" (forthcoming in the Washington University Global Studies Law Review). The book and article are attempts to use South American models to jump-start a discussion in the U.S. about the country's need to develop more substantive principles for labor and employment law (i.e. "work law").
Scholars have noted that judicial conservatism has eroded work in law in the United States. The Roberts Court has kept in line with such conservatism, deciding a number of key work law cases in favor of employers. But the rebirth of work law in South America after years of authoritarian rule and dictatorship may provide valuable lessons for the U.S. and other jurisdictions. In particular, the authors point to the principle of protection, perhaps the central pillar of South American work law, as a doctrine that may help develop U.S. work law.
To read the English article version, click here.
Note: The book is not yet available online for purchase, but once it is, it will be available here.