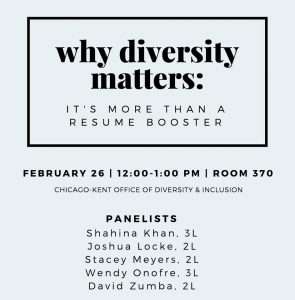 This year's Diversity Week started off with a panel about what diversity means to law students and issues affecting minorities in the legal field.
Moderator Joanna Martin started the panel with prepared questions, then opened it up for a Q&A with the students in the audience. Our speakers shared their experiences in classrooms and courtrooms to show the value of including more diverse perspectives in the legal field.
While the student leaders agreed on many principles, they also offered contrasting perspectives about presenting their experiences in conversations or written statements like scholarship applications. 
Panelists: