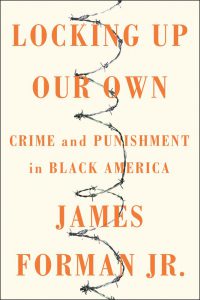 On January 17, 2018, Professor James Forman Jr. of Yale Law School visited Chicago-Kent to discuss his book "Locking Up Our Own: Crime and Punishment in Black America," which has been named one of the 10 best books of 2017 by the New York Times.
Professor Forman described how, while working as a public defender early in his career, he saw many of African-American prosecutors and judges using the same history that motivated him to become a public defender to instead justify incarceration of his clients, and he wanted to understand why.
Professor Forman said the "question of the book" is as follows:
For me, it was telling that story of the criminal system over the last 50 years through the lens of African-American prosecutors, police chiefs, judges legislators, citizen activists, everyday citizens – trying to figure out, through their voices, what was going on and how was it that at least some of them had come to think that these policies that the government, that the United States as a nation was pursuing made sense. Were they tricked? Were they coerced? What was the story? 
Continue reading ""Locking Up Our Own: Crime and Punishment in Black America" – James Forman Jr."